Woo hoo! I'm on the Internets with Abiola Abrams!
Stay tuned…I might someday even be invited back! :-D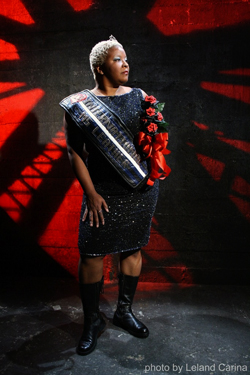 SexIs: All Things Sexual online magazine from EdenFantasys.com
August 17, 2010
Perverted Negress, Without Shame: An Interview with Mollena Williams, International Ms. Leather 2010
by Lori Selke
Mollena "Mo" Williams doesn't know how to slow down. Just this year, she was crowned first Ms. San Francisco Leather and then International Ms. Leather 2010; wrote her first book, The Toybag Guide to Playing With Taboo (Greenery Press); staged a revival of 69 Stories, her one-woman show about her erotic self-discovery; participated in the San Francisco Gay Pride Parade; quit her old job and started a new one.
In the meantime, she's made a reputation in the BDSM scene as a sought-after teacher and presenter on topics such as race play, as well as a prolific blogger at ALT.com and at her personal website, The Perverted Negress. It's hard to believe that a mere three years ago, Mo was unemployed and fresh out of a stint in rehab for alcoholism. She took a rare afternoon off the day after San Francisco Pride to talk about her remarkable journey over tea.
You've been very open about your sobriety.
Yes. And I'm really glad, because part of what was difficult for me was that shame. I had the surety that if people knew how fucked up I was, they wouldn't like me anymore.
The final—I was going to say nail in the coffin but no, this is the nail out of the coffin—was one morning I got up and I thought I was dying. Continue reading »